This shop has been compensated by Collective Bias, Inc. and its advertiser. All opinions are mine alone. #MyLiteracyStory #DGMyStoryEntry #CollectiveBias
School is back in full swing and I am still adjusting to our busy schedules this time of year. With sporting events, homework and finding time to eat dinner, it can be hard to squeeze in some reading besides what is required of homework.
Today I am here to share easy ideas on how to keep your family reading during the busy school year and in between busy schedules.  I am also here to let you know about a foundation that supports literacy and believes that everyone deserves a solid educational foundation.
The Dollar General Literacy Initiative Foundation was found in 1993 and has given over millions to non-profits and schools. It has also helped millions of individuals learn to read and become educated. Kellogg's® is a sponsor of the Dollar General Literacy Initiative Foundation. When you purchase a box of Kellogg's Frosted Flakes® Cereal, Kellogg's® Froot Loops® Cereal, Kellogg's Frosted Bite-Size Mini-Wheats® Cereal or Kellogg's® Rice Krispies® Cereal with the banner "Here's my Story" you learn about personal literacy stories. You can share your own personal literacy story by entering the #DGMyStory Sweepstakes using the hashtag #DGMyStoryEntry for a chance to win a $50 Dollar General gift card!
Hover over the image below to shop these Kellogg's cereals!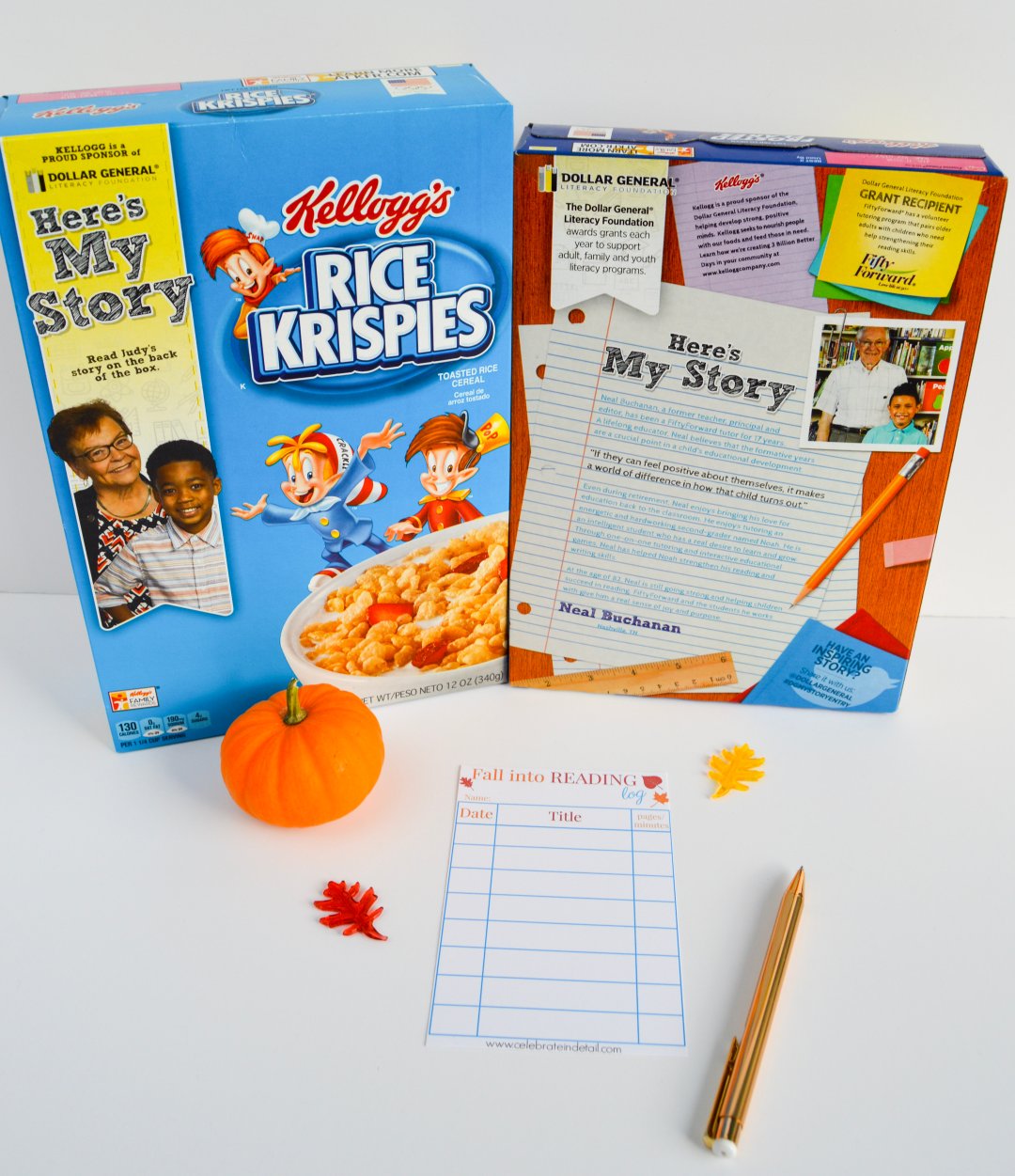 As a busy mom,  I struggle to find time to fit in reading with my kids besides homework assignments. Literacy is so important to my family, so I created a list of 10 easy ideas that you can use to keep your kids reading and excited about literacy.
Tip #1 Seasonal Book Basket
It is always so much fun to gather your books for the season or holiday and read them again after a long year. Find a small basket and put all the seasonal books you love in the basket. Remember, Just put in the season or holiday that you are celebrating that month or week. Keep it in your living room and change it out every holiday or season.
Tip #2 Read to your kids no matter what age they are!
It is so much fun to dive into a good book together.  Its important for your child to read on their own but also remember to read to them.  Even as they get older this is so important and can be so much fun!
Tip #3 Have them read to YOU!
It is so easy to say "go read a book for 20 minutes by your self." Next time ask to listen while they read aloud to you.  My son and I do this sometimes when I am in the kitchen getting dinner ready. He reads his story to me and then I ask him questions about his story he read.
Tip #4 Reading Corner
Set up a little reading corner in your house where the kids can hide away and read their favorite books. Set up pillows and blankets and a little basket of books.
Tip #5 Reading Log
Keep a reading log to keep track of the amount minutes or books your child has read. Set a goal for the week or the month. I created this free printable reading log to keep track of your child's readings.
Tip #6 Visit the Library
Check out your local library and see when they offer a read-aloud storytime. After the story, check out a few library books for the week.one another
Tip #7 Field trip with your kids
Visit the park or farm and bring along a themed book to read during lunch.
Tip #8 Sibling Reading
Have your kids read to each other.  Have them each pick out a book and each of them take turns reading to each other. This is especially fun with silly books. Just hearing them laugh together is priceless.  If your kids are younger just have them look at picture books together and tell them to talk about what is going on in the pictures.
Tip #9 Make a snack that goes along with a book you read
Pick a book to read and then create a fun snack to eat after.
Tip #10 Make a craft to go along with a book
Make a craft after you read a book that goes along with the story. This is great when you have a little extra time. Pinterest is filled with books and craft ideas.
I hope you all loved these reading ideas and can use them with your family! Make sure you check out the Dollar General Literacy Foundation and remember to enter the #DGMyStory Sweepstakes and share your own personal literacy story for a chance to win a $50 Dollar General gift card!